Written by bocahiseng on Thursday, August 14, 2008
Siapa sih yang gak mau nomor handphone cewek apalagi kalau ceweknya cakep and cantik and bohai waalah apalagi kalau ceweknya ....
temukan disini aja deh jenis-jenis cewek itu, hahahaha padahal kalau udeh tau nomor handphone cewek cantik paling cuma ngabisin pulsa doang

.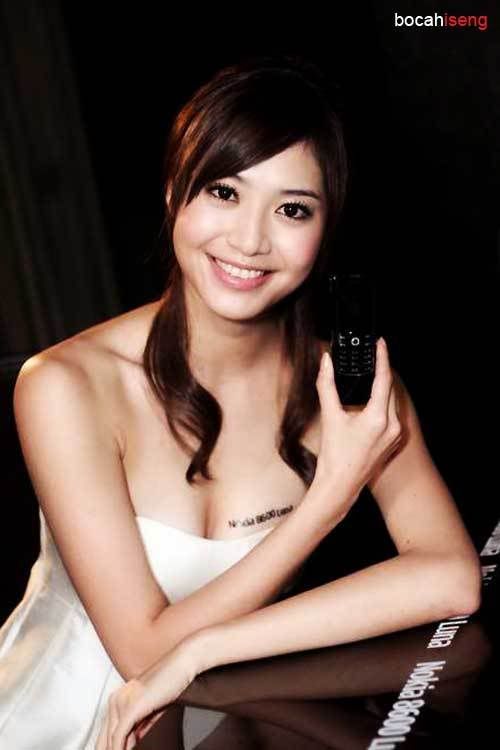 Gambar Cewek Diatas telah aku nodai (- maksudnya gambarnya udeh di edit-edit jangan berpikiran ngeres dulu-), kalau pengen
perawannya
aslinya alias belum diotak-atak liat yang ini aja.
Nah kan gak enak kalau tulisan itu gak ada pesan moralnya
jadi di tulisan berjudul
Nomor Handphone Cewek Cantik
pesan moralnya adalah
"HEMAT PULSA HANDPHONE ANDA"
. pasti dalam hati anda berkata
"
handphone, handphone gw, pulsa, pulsa gw ngapain loe yang repot
" selamat dongkol dalam hati.

pesan ini juga buat para cewek jangan buang pulsa buat
cowok ganteng
yah...

.
650 comments: Responses to " Nomor Handphone Cewek Cantik "

By ipanks on August 14, 2008 at 3:32 PM

horeeee pertamaxxxxxxxx....kaburrrrr

hihihi lucu postingannya om. met kenal ya Om

By zonamerah on August 14, 2008 at 3:36 PM

ha..ha... boleh lah guyz..

klo udah cintrong mo gimana lage, pulsa berjut-jut juga engga kerasa tuh...

lah e'e kucing aja jadi rasa coklat kalo udah suka.. he..

By bocahiseng on August 14, 2008 at 4:13 PM

@ipank
salam kenal juga omm

@zonamerah
hahahah iye bener juga yahh e'e kucing aja bisa jadi rasa coklat....gile deh tuh orang hehehe

By Anonymous on August 14, 2008 at 7:19 PM

kamu kok cantik banget

By Fachia on August 15, 2008 at 6:24 AM

walah walah.. ta kirain ada nome HP nya beneran.. ternyata :D

By yudi on August 15, 2008 at 8:09 AM

bro, pulsa sih ada, tapi cewe2nya yang males kalo ditelpon aku hehe

By Anonymous on August 15, 2008 at 9:36 AM

gyhahahahaha.... itu pacar baru mu ya?

By bocahiseng on August 15, 2008 at 1:26 PM

@anonim
hahah gw ganteng kali bukan cantik hahahah

@fachia
hahah tertipu....

@yudi
hahaha kok nasibnya saya yahh...

@thegand
aminnn.........

By kyai kreseng on December 15, 2008 at 5:27 PM

asssssssssssseeeeeeeeeeeeeeeeeeee

By cewek bispak semarang kota atlas on January 11, 2009 at 10:40 PM

cew bispak SMG, trsrah mo prcya p gak yg jlz cntik bngt. sms dlu tp:085641243999 . By pandu on 0246591234 nih no bekas Bokingan gue dia mang ctk, kulit kuning

By cewek bispak semarang kota atlas on January 11, 2009 at 10:46 PM

cew bispak campus ternama di kota SEMARANG juga, trsrah mo prcya p gak yg jlz cntik bngt & bikin basah Gw. sms dlu tp:081225611887 . By pandu on 0246591234 nih no bekas Bokingan gue dia mang ctk, kulit kuning

By Anonymous on January 19, 2009 at 11:51 PM

Percaya gak sey??cuman nonton film bayarannya Dollar, daftarnya gratis tis...tis...tis..
ikutin langkah-langkah dibawah ini kalau kamu semua pada tertarik...
1. klik http://tinyurl.com/4nks7d
2. sign up (gratis 100%)
3. isi data-data yang diperlukan
4. kemudian klik sign me up
5. lengkapi data-data alamat anda
6. setelah itu silahkan login
7. klik earn money, kemudian
click here to start your direct gallery feed
8. maka akan terbuka jendela browser baru
9. silahkan anda tonton, uang akan mengalir
10.untuk melihat pendapatan anda, klik statistic
11.untuk melihat profile anda, klik profile
12.untuk menambah penghasilan, anda dapat
mempromosikan URL anda agar oranglain mendaftar
anda akan mendapatkan komisi 5% dari
pendapatan referal anda
13.pembayaran dilakukan di akhir bulan
melalui paypal, stormpay, or e-gold
setelah pendapatan mencapai $35.00

By CUMI on March 18, 2009 at 1:36 AM

hey....?friend"
yg mau knalan ma aq ny no hp;087858272009
nma aq samaran cumi.!and aq brt4 tynggal di kediri,jl.dr.sutomo.
aq cry tmen crhat, tao pa aja deach yg pnting ank x bk2!
q tunggu sms tao call dry u my friend....!!!
TRIMAKASIH

By ShaSA on March 18, 2009 at 9:25 AM

hey,,,,,,,,,,
SHASA NEH 081268129697
CALL Aq yahhhhh

By Anonymous on March 19, 2009 at 10:58 PM

nih boss ad no cw bispak siiip banget dari slh 1 tmp top tmp gwa

081249000503

By Anonymous on April 12, 2009 at 8:30 PM

ANJREED.......
ANJreed222222222
jente'l coy Qt harus tunjukin wibawa Qt DONK,ATAAU JAIEEEM DECH





tp,Gw ikut jg dech
nh no. Q hasan.085742732817
yg pntng gw ju2rkan ngasi tau nama gw klo mau knal

By IchaLL_aJaH on April 18, 2009 at 3:36 AM

Buat para cewek2 yg da di Surabaya.......

Call aQ yach.....

085645604899

By hy on April 27, 2009 at 8:24 AM

tolong dunk hapusin no hp aq

By hy on April 27, 2009 at 8:28 AM

hy aq selvi 24 tahun aq cr cowok bwt jd suami call aq yah 07617606050/08126889111

By hy on April 27, 2009 at 8:29 AM

ato ke 07617606020/081268851333

By Anonymous on May 8, 2009 at 5:03 PM

share jg..
yng gi butuh, xxxx asli jr (montok, imuet) suwer...
087762604609

By Anonymous on May 11, 2009 at 8:33 PM

ni ada cewek 2 orang. namanya (vovy = 081260666951), dan (ririn atau nama samaran anggi = 06176240004). dua2 nya anak medan dekat polonia medan. orangnya bohai abis bro.
Klo vovy nelp dia, awal ngangkat dia terus minta pulsa minial 50rb klo mau diladenin. biasanya klo dah kasik dia mau jumpaan terus. klo riri gitu juga, minta pulsa. tp puas, orangnya horny banget.
Klo nelp bilang aja dari Dony = 081370615613.

By yudhi on May 13, 2009 at 12:23 PM

ngentot yukzzzzzzzzzzzzzz

By yudhi on May 13, 2009 at 12:27 PM

wat cewe" smd yg hobinya ngentot, harap hubungi aku 085350030174

By mytheory on May 13, 2009 at 9:07 PM

lucu2
I. postingannya emang lucu abiz
II. comments dari orang2 iseng juga lucu, masa obral nomer hape...hahaha

peace... =)

By Anonymous on May 29, 2009 at 9:24 PM

assuuuuuuuuuuuuuuuuuu
ama oscop lebih cakep
Oseng oseng kopet alias tai

By Anonymous on June 16, 2009 at 8:06 PM

nomor hape aku 081278833557

By Anonymous on June 16, 2009 at 8:11 PM

nomor hape cwox maniessssssssssssssssssss banget 081278833557 telphone aq yyyyyyyyyyyyyyyy<<<<<<< or sms ditungguuuuuu loeeeeeeeeeeeeeeeeeeeeeeeeeeeeeeeeeeeeeeeeeeeeeeeee NAMA AKU ERICK SUBPROBO

By dias on July 12, 2009 at 10:03 PM

hy cewek-cewek, knalan dong.... no hp q 081931424719 call/sms y, tanks

By erick on July 16, 2009 at 4:45 PM

hai cwek,! knlan doank..............?????? no hp q 085297181688 call/smz y!!, aq tggu y!!!! n klau u ,mau kta ngentot yuk!!!!!

By Anonymous on July 19, 2009 at 11:00 AM

hay, ini q deny boleh kenalan pa ndak q ingin cari temen/pacar jg boleh!ni no hp q=08815508929
sms q ya?telfon jg boleh!

By Anonymous on August 6, 2009 at 11:21 AM

bleh mntak no hp g........ne dri ank pmblap bnda...?

By Anonymous on August 7, 2009 at 9:32 PM

hai Q roni
085250990393

By dedy on August 21, 2009 at 11:45 PM

hai ne q andre bleh knlan g? ne nmr ha q 085640948800

By Anonymous on September 3, 2009 at 2:46 PM

hai gw cowo jomblo dmana ya bs nemu cw yang jomblo yabg belum ada penghuninya i love u full hahahahahahahahah susah cari cewe jomblo dan setia

By Anonymous on September 4, 2009 at 3:20 PM

HEY MY NAME IS CHRISTIANO RONALDO . . .
NUMB MY HANDPHONE 08198645961 . . .

By Anonymous on September 8, 2009 at 11:31 AM

hy...
w ce sange yg kspian...
w btuh sex dkit..
hub aku 02195288016

By Anonymous on September 9, 2009 at 12:30 PM

HUY....HUY....????
GW CWO 20 THN.
085883609349.085714857885.

By Anonymous on September 9, 2009 at 1:09 PM

081365060009


cwek cantik dech

By Anonymous on September 14, 2009 at 11:04 PM

hai cew..knlan dong sms or call me:085647190708

By Anonymous on September 15, 2009 at 11:35 AM

HAI JUGA SEMUANYA
NI NO.Q...
081903987521
TAPI COW LHO.

By Anonymous on September 26, 2009 at 12:52 PM

08176703988 gw jamin cantik abis...
cuma sombong nga mau angkat, dan kakak cowonya nyebelin sering ngangkat, namanya velyn...

By Anonymous on September 27, 2009 at 1:20 AM

aku vio cow semarng pngen cri kpuasan
wat tante or cew d semarang zmz aq adja di 08978045668 aq tggu ea.djamin puassssssssssssssssss n nikmat,,czlnya q kn mcih polosss

By frastianputra on September 30, 2009 at 11:53 PM

Hay ce" cntik.. lm knl yac nama gW frastian..
Call gW dsni yAc 081383153429
Ato d'FB gW frastianputra@gmail.com
Ditggu yAc..

By Anonymous on October 10, 2009 at 10:01 PM

hai wat cwe2 yg pngen knal 5 q...,
nii no.qu:081225430962 call/sms aqu y..???
aq cwo rembang,,,
truzzz bwt yg mw bs nge-sex ox 5 q...

By gatel on October 14, 2009 at 1:08 PM

bangsyat

By Anonymous on October 15, 2009 at 11:36 AM

co aku brengsexx bgt, bis dpetin tbuh aku, mlah ditinggalin...
w bnci dya...
hy guys, nma aku yunita, aku lhir thun 1990..
yg mo knal hub:02191322271
aku tnggu ya..
mmmuuaaccchh......

By Anonymous on October 17, 2009 at 10:44 AM

heii...
semua'a....
perkenalkan..nama aq mindy haerany sering dipanggil kidoy...
aq mau curhat sama kalian yg peduli ama aq...
aq rela d'apain aja dehh sama qm..
asalkan qm mau temenin aq...
coz aq lagi ada problem masalah harga diri....
telpon aq sekarang...
02123756798

By Tony on October 19, 2009 at 4:03 PM

hay ce nama qw Tony umur 25 cari ce setia n serius bisa diajak nikah langsung, siap lahir batin. aku kerja di Pt. Surya Jaya sebagai Staf Admin gaji 5jt/bLn pnya Rumah, rmh sendri.....
bagi semua ce yang berminat hub.....081908359233

By Anonymous on October 22, 2009 at 10:24 AM

hee mindi lam knl

By Anonymous on October 22, 2009 at 6:55 PM

HAI GW ARPEN NAMA KERENNYA
BWAT LOE2 CMA YG PGN KNL MA GW BZA KONTAK JA D 087832953535

By Anonymous on October 23, 2009 at 2:48 PM

hai w yudha capa yang mo tau cara bahagia call w di 085789999669

By raden on October 23, 2009 at 7:03 PM

mantap nih....

By cwo semarang on October 26, 2009 at 2:30 AM

bagi cewe2 yang mau curhat,
silahkan sms aja ke 085727301523

/cowosemarang.com\

By Anonymous on October 30, 2009 at 2:36 PM

tyuhjmyjuyuuxdhmjhjjjjjj

By Anonymous on November 2, 2009 at 4:12 AM

khusus buat cwe2 bogor....,gw BULE cwo tampan..,umur gw 24 tahun..,klo ada yg mo knl gw hub gw di : 085287342546 / 087870883296

By Anonymous on November 2, 2009 at 4:16 AM

BULE...,nyari cwe yg mo diajak serius.khususnya untuk daerah BOGOR..,klo ada yg mo knl gw CALL or SMS gw di : 085287342546 / 087870883296

By Anonymous on November 2, 2009 at 4:18 AM

BULE...,nyari cwe yg mo diajak serius.khususnya untuk daerah BOGOR..,klo ada yg mo knl gw CALL or SMS gw di : 085287342546 / 087870883296
NB : CANTIK n Rock N Roll...............

By Anonymous on November 2, 2009 at 4:18 AM

BULE...,nyari cwe yg mo diajak serius.khususnya untuk daerah BOGOR..,klo ada yg mo knl gw CALL or SMS gw di : 085287342546 / 087870883296
NB : CANTIK n Rock N Roll...............

By TAPLAK on November 5, 2009 at 5:26 AM

boat lo yg jahil & kurang gawean hub no w yg pny JATIBENING {KURT COBAIN}no 02196674693

By Anonymous on November 5, 2009 at 9:02 PM

poro itil mlekek podo arep kontol ra?.....

By Anonymous on November 5, 2009 at 9:05 PM

gwe cowo ganteng mo cari cwek call me 085859177327

By ANDO on November 6, 2009 at 10:57 AM

HAI BLH KNL GX NE NUMZ Q 081379749975 ANDO

By Anonymous on November 6, 2009 at 10:41 PM

hhhhhaaaa aaakkkuuu=cwok kspian'btuh tman tdur anu aku panjng/bsar'hub===0333823059===087857301331==\\bwi=gnteng=nma aku=dwi=cpt singkat puas=

By Anonymous on November 19, 2009 at 4:48 PM

hai cewe kenalan dunk 087882718000

By Anonymous on November 20, 2009 at 12:57 PM

By ANONYMOUS

Hai cwe cntik knalan donk bsa di ajak ML 02191064708 W ARDI

By Anonymous on November 20, 2009 at 3:37 PM

mau ngeseks tlp 085296693458, khusus bwt cewek seksi

By Anonymous on November 23, 2009 at 1:55 AM

gw bojezt.085725340939

By Anonymous on November 30, 2009 at 1:30 PM

umur : 13 tahun
siap ngentot.
hubungi ke email : deeq97@yahoo.co.id

By pandhu on December 1, 2009 at 5:12 PM

hy lam kenal y q mo cr cwe yg cantik ma no hp na ni call q y 085731498410

By pandhu on December 1, 2009 at 5:16 PM

q tun99u mz na y

By Anonymous on December 7, 2009 at 11:15 PM

yoga ganteng co smg
khusu ce smg yg cntik2 yg mo ml bs hubgi no ni 081575668998 ditggu scptnya....

By Anonymous on December 8, 2009 at 1:56 PM

hy gue co pgn ML ma cewek yg lg kesepian
call/sms 08990364997
Qtunggu yach buat daerah mlang ja.....

By Anonymous on December 15, 2009 at 1:58 PM

hy aQ ozzie aq pngn knln nie............

please call me 085329023073 atau sms blh kox

thanks....

By Anonymous on December 16, 2009 at 2:05 PM

hai cwe2 cantik,imoet,maniez....
nama q dirga laksmana vocalis ekspressive band dari singaraja-bali.
q pngn nyari teman hub aq yea...
085739328926

By Anonymous on December 17, 2009 at 1:40 PM

hi,Q puTra pngen nyri cw Stia.
087870808431
ya Umran 15 ato 16 thn

By Anonymous on December 17, 2009 at 2:15 PM

hy nma Q arif.........!
Q pngn cri cwek cntk yg stia ma Q
tlng hub 085730612702

By Anonymous on December 17, 2009 at 11:13 PM

hay.. nmaq aang''
cari cewe cantik, hub q 085711744890

By Aby on December 18, 2009 at 5:13 AM

yup gw cwo...nama gw aby cari cwe yang bsa diajak susah senang ma gw call gw 087871158989
gw tunggu

By Anonymous on December 20, 2009 at 2:16 PM

bagi cwek2 yg kesepian tuk areal jatim cal me gw bth temen 087758713288 ato 085859177327

By Anonymous on December 21, 2009 at 9:13 AM

aku jga pgen ngentot nech hub aku yd no ne 081936930143

By Anonymous on December 21, 2009 at 9:17 AM

aku vian aku bth tmn crht ne yg bza ngrtiin q hub atwmz k no 081936930143 tpi cwe y?

By Anonymous on December 22, 2009 at 1:02 PM

Aku Andika aku tmn buat curhat tlp/sms ke 085814400052

By Anonymous on December 23, 2009 at 10:55 AM

Gw hendry MAW NGENTOD MANTAP 1 buLan†™x;®&–s\ÊÎF

By Anonymous on December 23, 2009 at 4:27 PM

DANIEL....
PELACUR alias PELAYAN CURHAT !!!!
Khusus untuk cewek...............

By Anonymous on December 23, 2009 at 4:30 PM

Hay Girls...

Gua DANIEL brsedia menemani anda dlm suka maupun duka...

SMS: 081264058605

By Anonymous on December 28, 2009 at 10:44 PM

call me AGNES banyumanik... asal aku PUAS.. 081901509730

By Anonymous on December 28, 2009 at 10:46 PM

butuh cow macho..AGNES SMG BANYUMANIK... call 081901507930

By ErIcK ImUtZ on December 31, 2009 at 3:45 PM

ne no gw what cwe" cilling ako.a
085752211647

By Anonymous on January 8, 2010 at 5:36 PM

nmQ RENDY CR CWEK YG CUANTIIIIIIIIIIIIIIIK BUANET TLFNQ ZAAAAAAAAAAAAAAAAAAAAAAAAAAAAAAAAAAAAAAAAAAAAAAAAAAA.085856223192,087756252878

By Anonymous on January 11, 2010 at 12:50 PM

aku cewe yang butuh ke hangatan

By Anonymous on January 12, 2010 at 12:18 AM

hy cwe...ni no hp q yg mw sexphone 085697256723 - 021-97904525

By Anonymous on January 13, 2010 at 8:49 PM

085722398915
call me!!!!!!!!!
for women

By Anonymous on January 19, 2010 at 8:28 AM

hy da yg mau knlan ma ku d jmin ganteng & kren, yg mau tlp 087878797244

By Anonymous on January 19, 2010 at 3:01 PM

heii...gw icha..gw cari cowo nie yg asyix wt pain az dech,,,call me 085747167754

By Anonymous on January 21, 2010 at 10:25 PM

He . . . .kwe kabeh podo elingo ndonyo wis tuwo mulo ndang tobato . .poro konco2 ndang rabio . . Prawan,rondo iku podo . .lek waleh yo ditombokno . . . .0. . . . Slam knal dri 1214 . . . . . . 087848906063

By ferdi on January 24, 2010 at 2:17 AM

cowok kesepian 021948143

By Anonymous on January 26, 2010 at 9:30 PM

aku ...butuh cowok yg bisa kasi kehangatan.. hubungi aku 085750269637.....

By Anonymous on January 29, 2010 at 9:51 AM

I am man for a lonely woman call me +622514773855

By Anonymous on January 31, 2010 at 3:28 PM

bwat cwe-cwe solo area.....
yang mau curhat-curhat. call me...
085725217326

By Anonymous on January 31, 2010 at 6:24 PM

hay cmwa aq arif. aq lg btuh temen curhat.hub aq yaw 08815022818.no aq psti aktif koq

By Anonymous on January 31, 2010 at 6:27 PM

hai scptx yaw hub aq\zm.aq lg bth temen crht bngt 08815022818.aq arif

By Anonymous on February 2, 2010 at 6:14 PM

aku ragil aku pngen pnya cwe yang setia call,sms aku tar aku telpon 087758915978

By Anonymous on February 10, 2010 at 9:41 AM

KALIAN PADA GK PUNYA MORAL....
by Deantz

By Anonymous on February 10, 2010 at 9:43 AM

EHH....newb, ikutan dunkz...
Gw mw cari perek yg msih virgin. Gk?

By Anonymous on February 10, 2010 at 9:48 AM

Hy slm knl bwt smw..
Q Jery (24) kul,local jogjatown.
Bwt ce yg pgn curhat..sms/call yakk.Free times
081802755460.Bye..

By Anonymous on February 11, 2010 at 12:22 PM

081272766656 a cowok

By Anonymous on February 11, 2010 at 12:35 PM

hi..........a cowok lampung yg bisa memberi kehangatan cell me/sms buat cw2 abg selalu oke dijamin puas......hp 081272766656

By Anonymous on February 12, 2010 at 5:19 PM

plizzz caLL mee..
089655229524

By Anonymous on February 15, 2010 at 4:07 PM

aq iksan nax bdg no hp aq 02291858462..klo cwe mo crhat hub aq ya

By Anonymous on February 15, 2010 at 4:11 PM

thank ya cepet hub iksan ya buat cewe kesepian.....02291858462...iksan

By Anonymous on February 16, 2010 at 7:40 PM

bwt cwe2 mw yg lbh gede bs memberi kpuasan n kenikmtan call me 085730756553

By Anonymous on February 18, 2010 at 3:08 AM

081218922156 khd cewe udah kerja mapan

By Anonymous on February 18, 2010 at 8:24 PM

08986432676 bagi cewe yang ingin senang dunua akhirat hubungi aku secepetnya dijamin puas sampai ke akar perawan

By Anonymous on February 18, 2010 at 8:28 PM

bagi cewe cantik yang sange hubungi gw 08986432676 secepetnya di tunggu janga sampai lama tar nyesel lho kalo kelewat 08986432676, 08986432676, 08986432676,08986432676 cepet ya

By Anonymous on February 19, 2010 at 10:57 PM

haii..cwe-cwe yg ngrasa cntik ja dech...

q dri kediri,,, bgi kmuh yang pgen sex or PS bsa hubungi no q lngsg..

dijamin ga bkal nyesel.. << terima curhat juga lohh>>>>
mo ktemuan jg bsa... !!!

call me yah... or sms za klo mo knalan >>> -_- ok
087821758683

di tunggu, segere !!!

By adi on February 20, 2010 at 4:56 PM

cowok ganteng 085226862337

By Anonymous on February 22, 2010 at 6:25 AM

hai,,,
Q PuRnaMa,,
niE nO aQ 08566353945

By Anonymous on February 22, 2010 at 6:27 AM

PURNAMA: hubGi aQ ya,,
08566353945

By Anonymous on February 28, 2010 at 3:33 PM

sofyan ganteng
hub aq ya
085245435461

By Anonymous on March 5, 2010 at 8:08 PM

bwt cewe" yang mau curhat pa mau berbagi masalah bisa call ma aku,,,, dengan senang hati aku akan bantu solusinya kalau aku bisa,,, Hub ja ke 02191931010. GOPAL

By adnan on March 15, 2010 at 7:44 PM

by adnan on march 15,2010

,hey cew2 knlnd m ako dunk,,,ako g btuh tmn...cell ako ea d nub 085743643405 ako nag jogja..thanks ea bwt eank 5u knl m ako??...

By miraldi bastian on March 17, 2010 at 11:14 AM

nyari cewe SMA yg cantik,seksi hub: 08990717553

By Anonymous on March 23, 2010 at 9:14 PM

hi
call 02293930007
buat cewek bandung ajj
yang btuh tmen curhat may be??
hehe

By Anonymous on March 24, 2010 at 8:11 PM

aku juga boleh ikutan

By Anonymous on March 24, 2010 at 8:15 PM

Q lgi cri cwe yg mw d ajak knlan hub... aq y ne no q 085247120382

By aziz on March 24, 2010 at 10:45 PM

w ikutan dah,,,02199447438

By Anonymous on March 25, 2010 at 2:41 PM

gw cowok arab umur gw 20 tahun, gw kuliah di jogjakarta. gw putih idung mancung dan gw tajir..
buat cewe2 yang mau berteman atau jalan atau serius sama gw call aja di 0856 1662 996
gw dijakarta ada rumah.

By Anonymous on March 25, 2010 at 2:42 PM

woi hari sabtu yang mau dugem anak2 jakarta Di Musro hotel borobudur bisa call gw di 085697468655

party

By Anonymous on March 26, 2010 at 2:41 PM

gw cwo' lgi boring n kesepian tpi humoriss...cri tm curhat nic...
hub " 085756201065

By Anonymous on March 27, 2010 at 8:28 PM

q si ganteng dr ngawi


ini no q
08133284456

By Anonymous on April 9, 2010 at 3:49 AM

haii.cwe2 klaten aja,,,085642021336

By Anonymous on April 9, 2010 at 11:25 AM

hai.... bt cwek2 dislruh indonesia !!!
bg cwek2 cantek yg pge curhat ma gw , ditunggu ???
gw bs ngrtiin lo pa da nya .. ???????
by : Darius_24 jam non stop
call me ok..!!!!!!!!!!!!!!!!!!!!!!!!!!!!!!
no 081977961154

By Anonymous on April 9, 2010 at 3:41 PM

Adrian : 081388417420

By Anonymous on April 10, 2010 at 3:43 PM

huyy ,, w ada knlann nakk jaktimm ..
orangnya chaem bngtt .
dy w dach pke bbrp x .. w bsen mkenyaa ..
nie numbnya ...
02190285208

By Anonymous on April 11, 2010 at 1:13 PM

gw cwe balikpapan gwe lagi sendiri butuh cwo, gwe maw di sange di kentot di apain aja dah ne

By Anonymous on April 12, 2010 at 9:01 PM

hy q Akbar....ni nUmb HP au...089675615618
Mz au yacH...

By Anonymous on April 12, 2010 at 9:43 PM

hy q cow ne no q 085733011964
call z pzt siap

By Anonymous on April 18, 2010 at 1:20 AM

ae semua....
aquw kspiani...
bleh gbung ga'???
aq Rossy...
spa yg mw nemenin aquw,,,??
ne No aq 085640273077..aq tggu

By Anonymous on April 18, 2010 at 1:38 AM

call me please ...
085742578970
my name arum

By rustam on April 19, 2010 at 12:10 AM

BUAT SEMUA CEWEK YG DOYAN ML

CALL ME 085716103952

KHUSUS JABODETABEK

LIAT FB GW AJA DULU : rustam.khairil@yahoo.com

By Anonymous on April 20, 2010 at 4:33 PM

By Ronie

Buat cewe-cewe yg butuh temen telpon ksni..!!!

Call Me 085222399060

see U next timw .....

By Anonymous on April 21, 2010 at 10:30 AM

gw co gokil...
carii ce yg gk tau malu...hahahay!!
02195424228
tlp aj yeah..

By Anonymous on May 1, 2010 at 11:07 PM

semua itu bohong

By Anonymous on May 2, 2010 at 12:49 AM

bwat cwe klaten ja,,,,...085725383377.psxxx

By anisa on May 12, 2010 at 12:21 AM

085273552900
GW ANISA CALL ME....

By iand on May 13, 2010 at 7:23 PM

wat cew2 yg pgen knal ma aq.....

call me/sms 081391403003

By Anonymous on May 13, 2010 at 8:59 PM

GW irfan calme
081361952773

By Author's on May 15, 2010 at 12:43 PM

Daftar Lengkap No HP Cewek Friendster Klik Disini

By huchj on May 19, 2010 at 4:03 AM

Muka2 Setan Semua LOe... emg udh gila zaman..............

By DJ.ipunk on May 21, 2010 at 7:23 PM

q cow 21thn
mapan,ca'em,mandiri
nmq DJ.ipunk
bwt cew" yg pngn knl
zmz/call no 085229812721..............
mizzzz u girl

By janjan on May 22, 2010 at 3:39 PM

By. AZepta

buat cewek2 yg butuh cowok imut cakep........n baik....call aku yow......ne nmrx......................085859774304 dijamin aktif, tkhs




azeptamusik.blogspot.com

By Anonymous on May 23, 2010 at 12:38 PM

aq pngen pnya tmn cwe smarang,,,,,,,,,,
sms ya 085724318268

By deni ardiansyah on May 26, 2010 at 1:19 AM

hayyyy,,,,Q deni ardiansyah
Q pengen punya pacar,,,
tlp,yaa,,,085220095184

By Anonymous on May 26, 2010 at 10:16 AM

ae...ae...ae...bidam umur 18 cri tmn kususnya cewek...
tmn pling gokil...
085727580807
q tg3u khdranmu tman....
slam PRIKIYIEW...

By Anonymous on May 31, 2010 at 12:36 PM

sms aku 05122727620

By Anonymous on June 1, 2010 at 4:51 PM

Mz my 085724551305 dari:ayoe

By ira on June 4, 2010 at 9:25 PM

ira nak jombang aq tante2lho yg g da tmnx tuk tidur
no hp q 085645124541

By aditya on June 5, 2010 at 6:47 PM

hy gw adit,gw mw cri cwek umur nd blh diataz 24 yg setia sm gw n mw hdp sm gw.tlpn aq 085289383723 aditya.

By kajol on June 6, 2010 at 10:30 AM

itel smw

By GUN on June 6, 2010 at 10:43 AM

Bwt cwek2 ynk agy cndri

q siap nemnin kq

MZ q ea
087858543014

By GUN on June 6, 2010 at 10:46 AM

Mw cri tmen crht MZ q ea
087858543014
khuss bwt cwe ynk agy jmblo

By Anonymous on June 6, 2010 at 9:43 PM

woy untuk cwe2 ... yang mau no hp gua,,,, lo mnta aja di fb w nieh
nceks.ncool@yahoo.com

By Anonymous on June 11, 2010 at 2:19 PM

" kabeh kempol"

By Anonymous on June 11, 2010 at 11:40 PM

ak cow chinese 17 taon ..
BATAM
085658005522

By eko on June 15, 2010 at 4:04 PM

hay cewe bleh Knalan g gw eko kakujblo loh kLu mau daftr hub 087772777093

By arema on June 16, 2010 at 9:04 PM

salam satu jiwa ...

By Anonymous on June 17, 2010 at 11:49 AM

buat cw sange hub 08986432676, dijamin puas,,,
buat daerah bandung.

By Anonymous on June 18, 2010 at 9:38 AM

gua ivan,co cren,gokill..........
btuh tmen cewe...........
hub gua di :02195970666

By Anonymous on June 22, 2010 at 9:55 AM

aq nak bmbang cm pngen bnyak temen yang beragam... baik lintas agama n sifat.... call me jika ingin jadi tmenq.. 085852688801

By Anonymous on June 22, 2010 at 9:58 AM

aq nak jombang cm pngen bnyak temen yang beragam... baik lintas agama n sifat.... call me jika ingin jadi tmenq.. 085852688801

By ryan... on June 25, 2010 at 12:29 PM

hey semua nama ku ryan ... aku nyaariii cewekk yg bsaa muasin aku....ak bayar cewek yg mau muasin aku...berapa yg kalian mau....ne nomor hp ak :083186944274......d tunggu yaaa.....

By Anonymous on June 27, 2010 at 3:37 PM

hy

By Anonymous on June 27, 2010 at 3:44 PM

hy gw lgi nyari cwok muda yg dpt nmenin aq smalam
gw cntik rmbut pnjang umr 21 thn ska ama yg pnjng2 (pen**)
d tgg yach muaachhh

hub 081242565727/0411454545(only mks)
jl.borong raya no 164.blok C

By Anonymous on June 27, 2010 at 6:19 PM

hee..gila

By Anonymous on June 30, 2010 at 10:59 AM

cari temen yang bkin gue tenang........!!!!
hai namaku q dewa....aq pengen cari ketenengan ajjj..ni no q 081244502758 kuharap ad yang hub.aq....aq cowok manado.aq butuh tmen curhat salah satunya pada kalian semua terutama cewek2 cantik......ok.salam kenal semuanya.

By Anonymous on June 30, 2010 at 11:08 AM

cari temen yang bkin gue tenang........!!!!
hai namaku q dewa....aq pengen cari ketenengan ajjj..ni no q 081244502758 kuharap ad yang hub.aq....aq cowok manado.aq butuh tmen curhat salah satunya pada kalian semua terutama cewek2 cantik......ok.salam kenal semuanya.com

By Anonymous on July 4, 2010 at 5:34 PM

titit

By Anonymous on July 4, 2010 at 7:18 PM

hy nie qw iis,q lgi btuh tmen y9 bsa n9sih pls q 5rbu tiap mn99u ok call me please 083896571293 tlon9 tllfn or ms q ok ....! djmin tok cer s9ra

By Anonymous on July 5, 2010 at 9:32 AM

hemb,.ngentot

By Anonymous on July 5, 2010 at 9:38 AM

hai, .aq iyan,.aq lagy CARI JODOH, .aq GANTENG + MANIS kpq, .bagi yang merasa dirinya CANTIK & jika berminat silahkan hubungi : 08983404958
*DIJAMIN KENAL AQU GAK BAKALAN NYESEL*
CEPETAN IYA, . . .

By Anonymous on July 6, 2010 at 2:48 PM

untuk semua cewek............Call me in 085796026590.......Dijamin puas

By Anonymous on July 6, 2010 at 2:55 PM

hy........gw bisa jdi temen curhat loh..untuk para cewek.....bisa di hubungin di 085796026590.

By Anonymous on July 6, 2010 at 3:02 PM

untuk cewek..yg butuh temen curhat hub 085796026590

By Anonymous on July 8, 2010 at 4:09 PM

hy hubungin aku ya
081513921909.

By imo on July 8, 2010 at 8:16 PM

hay cewek2 yg pngen bwt tau gmana phone sex n sgala yg berhubungna dgn sex hub. za aq di 085856463346

By bazteristik on July 10, 2010 at 10:09 PM

pngen bgthu'n nhe ........ call me bgi cwe" yg mw sex ..... 02319255907 ....

By yukie zkandal on July 11, 2010 at 12:01 PM

loH zmUa pDa gOblok...!!!!

By yukie zkandal on July 11, 2010 at 12:04 PM

zMua'x pd paraH_

By Anonymous on July 14, 2010 at 10:40 AM

buat cew sexy di bawah 25 tahun yg jablay to gmna gt call me yah.... 085737455185... cow dari Bali nie.....

By bazteristik on July 15, 2010 at 12:00 PM

pngen bgthu'n nhe ........ call me bgi cwe" yg mw sex ..... 087829986466 .... w co pngen cri cwe ...

By Anonymous on July 16, 2010 at 5:04 PM

huuuuhhh parah dibooongi ma orang maw ajah, parahhh kalian semua........ya beginilah otak klo isinya udang. wkwkwkwkwk

By Anonymous on July 19, 2010 at 12:43 PM

ak ryanto mau cari cewek buat ap ja............... . .yang penting enak.. . .... .. 085742391713 ak tunggu !!!!!!!

By Anonymous on July 19, 2010 at 3:19 PM

AKU BANG TYOING BUWAT CWE2 PNGEN PUUUUUAAASSS HUB SGRA ,08572506667

By Anonymous on July 22, 2010 at 2:08 PM

anjik lo,,

By Anonymous on July 22, 2010 at 2:23 PM

hay cowok2 yg cakep,,
q putri nak malang,y wlaupun q ni dah g suci tp goyangan qw msih hot lo hehe........
qw tinggi putih seksi,klw d rumah q jg sering cuma pakai tengtop doank bis gerah c hehe.........

tlp q y,tp yg sopan cz q g suka cwo yg krng ajar
085247173441
qw tunggu y

By Anonymous on July 22, 2010 at 2:27 PM

qw santi anak malang
buat cwo2 yg burungx nakal sini ksih kan ke q biar tak emutx
tlp q y 081321599260

By emo on July 22, 2010 at 2:32 PM

bwt cew2 jgn lupa hub. W,, d jmin bkal dpet tmen yg bisa apa za n siap mlayani pa za.....,,, lau gag prcaya hub. q za ea d 085856463346

By Anonymous on July 22, 2010 at 2:39 PM

hai..gw cwo,mw cr cwe..call me

085696623305

By Anonymous on July 23, 2010 at 12:00 AM

q cwo mw cari cewek. hubungi q 087796452969
«Oldest   ‹Older   1 – 200 of 650   Newer›   Newest»